Writing
A short film I co-wrote with filmmaker Chris Spencer-Lowe, Transfer, was released in 2014. The same year it one two best film awards, at the Atlantic Film Festival and at the Silver Wave Festival.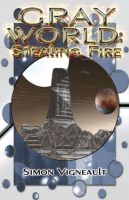 Gray World: Stealing Fire is available for purchase here: http://www.whitecatpublications.com/products-page/scifi/ and here: http://www.amazon.com/Gray-World-Stealing-Fire-ebook/dp/B008A7W5OY

But unfortunately, I am seeking another publisher for this book. Although my science fiction book, Gray World: Stealing Fire is available for sale at White Cat Publications, and is available as an ebook on Amazon through Sam's Dot (its former publisher that was bought by White Cat), like its other writers I have been receiving no communication from this publisher and for various reasons am convinced they are no longer a viable entity. I own the copyright to Gray World as it was not  transferred to White Cat in the changeover. I can be contacted here if you are interested: silexv@gmail.com
"I truly hope that this very complex society that has been created is not just to be used in this novella as it is an intriguing one. I enjoyed "Gray World: Stealing Fire" and read it at a single sitting. Well written and different."
–Gail Jamieson, Probe Magazine
Gray World: Stealing Fire
In the far future a fusion of meditative practices, magic/witchcraft, and quantum physics has developed into a new craft called waveseership, practiced by waveseers, who dreamfold waves flowing in quantavium light, thereby shaping the form of outer events.
A majority of the affluent has taken refuge in vast orbital cities, powered by energy culled from massive mining of planetary resources.  This mining has led to planets rapidly entering an uninhabitable super-storm condition colloquially known as becoming a 'gray world'.
In Westpoint, New Skye, on the dying hope of planet Skaha, a drunken Vagabond is lying unconscious in a park. Once a renowned waveseer, Vagabond has fallen to the depths, knows firsthand, as a failed hypocrite, the full range of human hypocrisy.
Shyfoil, true warrior daughter of Skaha, embraces and knights Vagabond for exactly his convoluted, compromised virtues. In the silence of his eyes she finds solace from the murder in her heart, and in his waveseer skill she finds he is also a worthy ally in espionage.
Together they must decide whether to trust an alien client who would charge them with stealing a most unusual, mathematical fire, and perhaps thereby honor the memory of a dead, gray world.
See this post to read about the dreaming origins of Gray World: https://theinfinitelivingroom.com/2013/11/18/gray-world-11/
—
I am currently seeking a publisher for my magical realism novel, The Infinite Living Room:
The Infinite Living Room
Gradually, half with the willingness of a daring explorer, and half with all-too-human terror, Martin Saxon finds his simple life expanding into an infinite living room.
What begins for writer Martin Saxon as a routine trip to give a lecture at a university flowers into a quest of such intensity that it splits open his psyche into bizarre, and by times violently competing approaches to that quest.
These approaches manifest in the form of three fantastical agents, who blur the lines between dream and reality.
Did he hire them, as they claim? If so, why? And why can't he remember doing so?
These agents take as their debating platform and battleground the dreamscape city of Quantavium, into which Martin finds himself slipping while sleeping, and increasingly, while awake.
Is Martin going mad? Or is he experiencing some vaudevillian form of Zen illumination?
See this post to read a chapter of The Infinite Living Room: https://theinfinitelivingroom.com/2013/04/11/the-infinite-living-room-two-views-of-a-secret/
—
My story The Wholly Wedded Gift of the Law appeared in the 2008 edition of the Manchester magazine Ballista (http://www.flapjackpress.co.uk/page18.htm [back issue #4], and see the poetry page to read the poem of the same name this story was built around):
The Wholly Wedded Gift of the Law
A man will be the first pilot to travel to another star system. Alone.
The object of the flight is to confirm probe data that suggests the planet may be habitable.
But his personal reason for accepting the mission is to force himself to confront his own inner emptiness.
And he has the conceit of wanting to record his experience in the form of a poem written 'in between suns'.
Things become a little complicated on the way.
—
I ongoingly collaborate co-writing short films with filmmaker Chris Spencer-Lowe. We are currently working, together with actor Ben Stone of the Zuppa Circus Theatre Troupe, on a film with the working title Transfer.
I periodically work as a writing consultant for the video game company Silverback Productions, and also do freelance work for numerous other clients.
Otherwise I make my living as a German-English translator (I spent 6 years living in Germany, teaching, studying, and travelling around Europe).