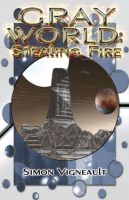 This is a separately published, Celtic-themed science fiction novella. It is inspired by two dreams I had, the first one coming complete with the title The Fabulous Gray World of Vagabond, and featuring a visceral, very vivid science fiction noire atmosphere, centred in an 'orbital world'. The other dream depicted a kind of far future 'bard', an antihero of sorts being challenged to help alleviate 'the language famine' plaguing a science fiction 'orbital' culture. I have ended up incorporating elements of Irish-Scottish mythic history.
Gray World: Stealing Fire is available for purchase here: http://www.whitecatpublications.com/products-page/scifi/ and here: http://www.amazon.com/Gray-World-Stealing-Fire-ebook/dp/B008A7W5OY
But unfortunately, I am seeking another publisher for this book. Although my science fiction book, Gray World: Stealing Fire is available for sale at White Cat Publications, and is available as an ebook on Amazon through Sam's Dot (its former publisher that was bought by White Cat), like its other writers I have been receiving no communication from this publisher and for various reasons am convinced they are no longer a viable entity. I own the copyright to Gray World as it was not  transferred to White Cat in the changeover. I can be contacted here if you are interested: silexv@gmail.com

"I truly hope that this very complex society that has been created is not just to be used in this novella as it is an intriguing one. I enjoyed "Gray World: Stealing Fire" and read it at a single sitting. Well written and different."
–Gail Jamieson, Probe Magazine (from a review of the Sam's Dot release of the book)

Here is the blurb that appears on the back of the book:
Gray World: Stealing Fire
In the far future a fusion of meditative practices, magic/witchcraft, and quantum physics has developed into a new craft called waveseership, practiced by waveseers, who dreamfold waves flowing in quantavium light, thereby shaping the form of outer events.
A majority of the affluent has taken refuge in vast orbital cities, powered by energy culled from massive mining of planetary resources.  This mining has led to planets rapidly entering an uninhabitable super-storm condition colloquially known as becoming a 'gray world'.
In Westpoint, New Skye, on the dying hope of planet Skaha, a drunken Vagabond is lying unconscious in a park. Once a renowned waveseer, Vagabond has fallen to the depths, knows firsthand, as a failed hypocrite, the full range of human hypocrisy.
Sky, true warrior daughter of Skaha, embraces and knights Vagabond for exactly his convoluted, compromised virtues. In the silence of his eyes Sky finds solace from the murder in her heart. In his waveseer skill Sky finds Vagabond is also a worthy ally in espionage.
Together they must decide whether to trust an alien client who would charge them with stealing a most unusual, mathematical fire, and perhaps thereby honor the memory of a dead, gray world.